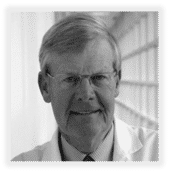 Dr. David Crawford is an internationally recognized expert in prostate cancer, benign prostate hypertrophy (BPH) and other urologic cancers.
Dr. David Crawford is the distinguished Professor of Surgery, Urology, and Radiation Oncology, and head of the Section of Urologic Oncology at the University of Colorado Anschutz Medical Campus.
He is an active clinician, researcher, and teacher. He has been recognized as one of the Best Doctors in America, one of the Best Cancer Doctors, one of the Top 20 Urologists in the county by Men's Health Magazine, and recently selected as the Healthcare Provider of the Year in the Denver Metro Area by The Denver Business Journal.
In addition, he is the recipient of more than 95 research grants in the diagnosis and treatment of prostate cancer, metastatic prostate cancer, hormone refractory prostate cancer, benign prostatic hyperplasia (BPH), advanced bladder cancer, and other areas of urological infections and malignancies. He has authored or coauthored over 600 published articles, contributed to nearly 100 educational books and provided thousands of educational talks for patients and physicians.
In an effort to raise awareness and education about prostate health, Dr. Crawford also founded and chairs a 501c3 non-profit called the Prostate Conditions Education Council.
Help To Continue the Work!
The Prostate Cancer Free Foundation, reviews the results of hundreds of thousands of men treated for prostate cancer. Tracking them for years. This information is available to you, and others like you, to help find the best prostate cancer treatment. This work takes time, effort, resources all of it done by volunteers. Please help us continue. Please Donate!