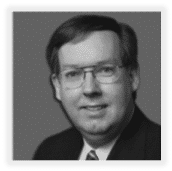 Dr. David G. Bostwick is an Associate Medical Director at Bostwick Laboratories, Inc. Formerly Professor of Pathology and Urology at the mayo Clinic (from 1991 to 1999), Dr. Bostwick founded Bostwick laboratories in 1999, and it is now the leading urologic pathology practice in the US and UK (17% and 35% market share, respectively (estimated)).
An internationally renowned urologic pathologist with more than 30 years of experience and interest in prostate cancer, bladder cancer and urologic diseases, Dr. Bostwick is the most sought-after pathologists for second opinions in urologic pathology. He has presented more than 2000 lectures around the world, is past President of the International Society of Urological Pathology, and currently serves on the editorial board of ten medical journals.
Dr. Bostwick has authored and edited 17 books, more than 30 book chapters and more than 400 professional papers. His book, Urologic Surgical Pathology (WB Saunders, 1997 and 2007) is the bestselling Uropathology medical textbook. Other current best-sellers are his books American Cancer Society's Complete Guide to Prostate Cancer (American Cancer Society, 2005) and Essentials of Pathology, 3rd Edition (Springer 2001, 2006, and 2011). His most quoted works include the first descriptions of prostatic intraepithelial neoplasia (1986) and atypical small acinar proliferation (1998).
Help To Continue the Work!
The Prostate Cancer Free Foundation, reviews the results of hundreds of thousands of men treated for prostate cancer. Tracking them for years. This information is available to you, and others like you, to help find the best prostate cancer treatment. This work takes time, effort, resources all of it done by volunteers. Please help us continue. Please Donate!