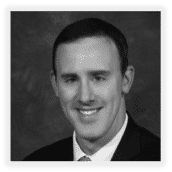 Dr. Thomas Pugh is a board-certified radiation oncologist specializing in cancers of the genitourinary tract, including malignancies of the prostate, urinary bladder, testicle, and kidney. He recently joined the University of Colorado as an Associate Professor in the Department of Radiation Oncology. Dr. Pugh moved to University of Colorado Cancer Center from the MD Anderson Cancer Center in Houston where he had been a faculty member for over five years.
Dr. Pugh obtained his undergraduate degree from the University of Kansas; which he attended on a basketball scholarship. He was one of seven athletes nationally to be awarded a post-graduate scholarship by the national collegiate athletic association (NCAA) for academic and athletic achievement. He obtained his medical degree from the University of Colorado and spent a year as an internal medicine intern at the University of Colorado Hospital. He completed his residency training in Radiation Oncology at the University of Colorado Hospital, where he served as Chief Resident. He completed a prostate brachytherapy fellowship at the Seattle Prostate Institute in Seattle, WA sponsored by the American Brachytherapy Society.
Dr. Pugh's interests include advanced technology integration into cancer therapeutics, prostate brachytherapy, particle therapy including proton beam therapy, image-guide radiation therapy (IGRT), stereotactic body radiotherapy (SBRT), intensity modulated radiotherapy (IMRT), and integration of medical therapeutics, including chemotherapy and hormone therapy, with radiation therapy. His research has focused on improving quality of life and reducing side effects for men with prostate cancer. In addition to his interest in technical advances in radiation oncology, he is involved in the development of cancer treatment clinical trials for patients with genitourinary cancers.
Dr. Pugh is an internationally recognized expert in Genitourinary Cancer and has served in numerous leadership roles on multiple ASTRO, ABS, and RTOG/NRG committees. He has served as principle investigator on several institutional and national clinical trials including MDACC 2012-1003; MDACC 2012-1013; RTOG 0815; RTOG 1115; and MDACC 2013-0555. He has published over 100 peer-reviewed articles, abstracts, and book chapters.
Help To Continue the Work!
The Prostate Cancer Free Foundation, reviews the results of hundreds of thousands of men treated for prostate cancer. Tracking them for years. This information is available to you, and others like you, to help find the best prostate cancer treatment. This work takes time, effort, resources all of it done by volunteers. Please help us continue. Please Donate!