To foster more research projects in prostate cancer, the U.S. Congress has increased funding for the Department of Defense's Prostate Cancer Research Program (PCRP) by $10 million, to $110 million, for fiscal year 2020. To read the full article click here.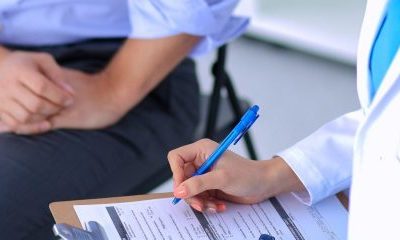 The fear of recurrence weighs heavily on the minds of every cancer survivor, some more than others.  For some it can be an overwhelming fear experienced on a daily basis, and for others, less frequent.  For many patients, recurrence anxiety strikes most often around...
Expert Commentary On The Latest Prostate Cancer Topics
Written by Dr. Ed Weber
PCa Commentary is a well-researched, clearly presented commentary targeted to medical providers and others interested in current prostate cancer treatment. Each PCa Commentary edition offers an analysis of new developments in the field of prostate cancer with essays discussing and evaluating treatment management options for this disease.
Radioligand Therapy (RLT) targeted with the radionuclide Lutetium 177 or Actinium 225 has been found in early studies to be promising, safe and effective. A Gestault of results has generally shown about a 50% PSA decline in 50% of patients and a median...
Genomic classifier panels for risk stratification and whole-genome sequencing in search of actionable mutations both provide personal molecular data that can guide management decisions. However, each provides an entirely different category of information. Both are...
Metastases Directed Therapy (MDT) has become a realistic option for men who develop metastases after primary therapy. The theoretical foundation of MDT was succinctly stated by David Palma, M.D., PhD:             "The oligometastatic paradigm hypothesizes that...
A Commentary discussing bone health and bone protective therapy may not be as eye-catching as new developments in PSMA and Axumin imaging or radioligand therapy with Lu-177, but as the old spiritual says:    "dem bones, dem bones gonna walk around …"  and we...
A great deal has been written about the comparison between Lupron (leuprolide) and Firmagon (degarelix). Lupron as been the mainstay of treatment of relapsed and metastatic prostate cancer since its introduction in the early 1990's. Firmagon (degarelix) was FDA...
Active surveillance (AS) is an increasingly recommended strategy for carefully selected men with a biopsy diagnosis of low grade, localized prostate cancer. It involves delaying primary intervention with careful follow-up monitoring with a goal of avoiding...
OLAPARIB and RUCAPARIB (PARP inhibitors): These newly FDA approved agents now offer a much needed additional treatment option for men with metastatic castration resistant prostate cancer (mCRPC). The prostate cancer field is abuzz with encouraging reports of efficacy...
In 2013 Radium-223 was FDA approved for treatment of prostate cancer patients with bone metastases on the basis of a large randomized trial, ASYMPCA, comparing the radioisotope to a placebo. In 708 heavily pretreated men, the overall median survival was extended by...
Following radical prostatectomy [and radiation therapy] for organ confined disease, approximately one-third of men will develop a biochemical relapse with a detectable PSA level."  Quoted from "PSA Doubling Time and Absolute PSA Predict Metastases-free Survival in Men...
UNDERSTANDING PROSTATE CANCER

What is Prostate Cancer?
What is Prostate Cancer, the Symptoms, Risk Factors? What does the Prostate do, where is it located?

Prostate Cancer Recurrence.
For Some, Cancer Returns After Treatment.  Compare Treatments. Increase Your Odds of Remaining in Remission.

Treating Prostate Cancer.
Patients have options when it comes to the prostate cancer treatments. Learn about your treatment options.
Remission versus Recurrence?
Relapse of prostate cancer is way more common than you might think. Many men treated for prostate cancer have their cancer return, which can lead to a lifetime of treatment. Prostate Cancer Free studies treatment outcomes documented in "The STUDY", recently updated for 2021. Take this Study to your doctor, and discuss your chance of cancer recurrence. The Study is available with the new, just released booklet, to help you learn about prostate cancer. Both the Prostate Cancer Free Study and the booklet, "What You Need to Know About Prostate Cancer" are available NOW for you to VIEW, PRINT or DOWNLOAD.
Get The Study
Help To Continue the Work!
The Prostate Cancer Free Foundation, reviews the results of hundreds of thousands of men treated for prostate cancer. Tracking them for years. This information is available to you, and others like you, to help find the best prostate cancer treatment. This work takes time, effort, resources all of it done by volunteers. Please help us continue. Please Donate!