Prostate Cancer Risk Groups
Have You Determined Your Risk Group?
Prostate Cancer Risk Group is the most common way that doctors battling prostate cancer use to classify the cancer and its progression. Each risk group identifies the current state of the cancer at the cell level, the aggressiveness of the cancer, the progression of the cancer within the prostate, outside the prostate, to other organs or to distant parts of the body. Treatment options become clearer for the patient, once the prostate cancer risk group is understood. For patients classified as Low Risk, the cancer has been discovered early, which allows for many successful treatment options. For patients classified as Intermediate or High Risk, the cancer has progressed, treatment decisions become more complicated and combinations of treatments maybe recommended to increase the odds for a successful outcome.
What Three Things Determine Your Risk Group?
Your Prostate Specific Antigen or PSA
PSA results are derived from a recent blood test. PSA is produced in the blood by prostate cells, but production is accelerated when cells become cancerous. As the blood test is simple to administer, it is usually the first sign of prostate cancer. To discover out what levels are normal, learn more about PSA.
Your Prostate Cancer Stage
Stage is determined by analysis of one or multiple tests. The stage of your cancer describes the progression within and beyond your prostate. Early prostate cancer is usually localized or confined to the prostate. As the cancer grows, the cancer may begin penetrate the prostate capsule, invading local organs then to distant parts of the body.
Your Gleason Score
Gleason score is determined by taking multiple samples during a biopsy of the prostate. The usual number of biopsy specimens obtained is around 10 to 12. Analysis of these samples by a pathologist using a grading system called the Gleason system determines the Gleason score, which in turn helps determine your risk group. The higher your Gleason score, the higher your risk group.
Is Your Prostate Cancer Risk Group: Low, Intermediate or High?
Compare Prostate Cancer Treatments
An ongoing study compares outcomes for over 129,000 men who have undergone Prostate Cancer Treatment.  This study provides information on how many patients remain in remission, (prostate cancer free), and for how many years following treatment. These comparisons are done by patient Risk Group. Patients with prostate cancer that has been detected early, fall into the low risk group. Those with more advanced cancer will fall into intermediate or high risk groups of prostate cancer.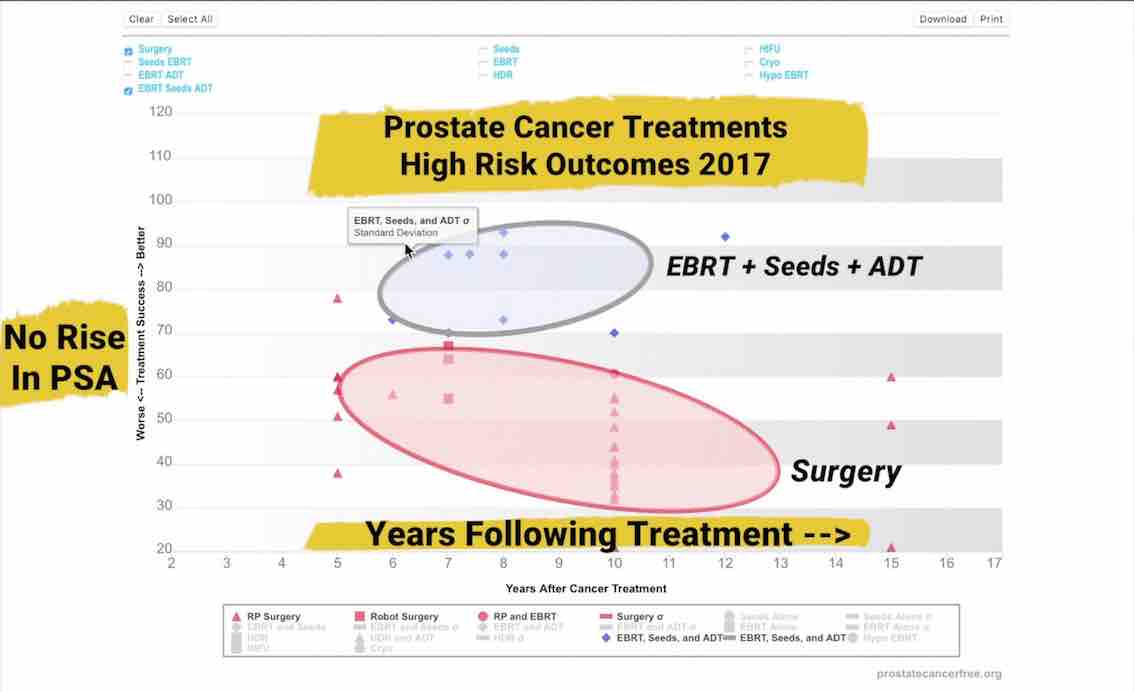 Compare Treatments by Selecting Risk Group
  UNDERSTAND PROSTATE CANCER.

What is Prostate Cancer?
What is Prostate Cancer, the Symptoms, Risk Factors? What does the Prostate do, where is it located?

Diagnosed with Prostate Cancer?
What tests confirm the presence of prostate cancer? Learn how doctors diagnose prostate cancer.

Treating Prostate Cancer.
Patients have options when it comes to the prostate cancer treatments. Learn about your options.
LEARN TO FIGHT PROSTATE CANCER
Top Ten Steps - Fight Prostate Cancer
Learn the Top Ten Steps, a guide through knowledge about the prostate, prostate cancer, diagnosis and treatment. Watch our video, introducing Edward Weber, MD. and hear his advice to men just diagnosed with prostate cancer. Get expert advice for your fight against Prostate Cancer.

Remission versus Recurrence?
Relapse of prostate cancer is way more common than you might think. Many men treated for prostate cancer have their cancer return, which can lead to a lifetime of treatment. Prostate Cancer Free studies treatment outcomes documented in "The STUDY", recently updated for 2021. Take this Study to your doctor, and discuss your chance of cancer recurrence. The Study is available with the new, just released booklet, to help you learn about prostate cancer. Both the Prostate Cancer Free Study and the booklet, "What You Need to Know About Prostate Cancer" are available NOW for you to VIEW, PRINT or DOWNLOAD.
Get The Study
Help To Continue the Work!
The Prostate Cancer Free Foundation, reviews the results of hundreds of thousands of men treated for prostate cancer. Tracking them for years. This information is available to you, and others like you, to help find the best prostate cancer treatment. This work takes time, effort, resources all of it done by volunteers. Please help us continue. Please Donate!